Hello Sythe this is Joseg1320 and I am selling my Main that I don't use anymore. Its combat level is 135 and has 7 99 stats. Great account if you like skilling. I'm selling it cheap because I really need the money.


This account has NO recoveries, NO bank pin, 0 black marks. I am the original owner.

Starting Bid - $100.00
Autowin - $250.00
Money
Levels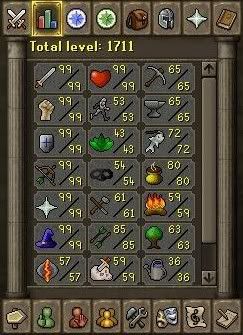 Combat Level
Quests Completed
Recipe For Disaster
Desert Treasure
Lunar Diplomacy
Monkey Madness
Dream Mentor
High Levels
99 Strength
99 Attack
99 Defence
99 Hitpoints
99 Ranged
99 Magic
99 Prayer
This account can make a lot of money at God Wars.
I will not be going first, if you don't want to go first, get an OMM before you contact me.